The foundation of an effective automated manufacturing cell is solid, repeatable tooling. Without it, dimensional and up-time requirements are sacrificed.  To meet these requirements when automated welding, you must integrate robust, repeatable tooling that can meet tight tolerances. If your components can't be correctly placed, held, and discharged, then your welding operation will fail.
From beginning to end – design, machining, tooling, build, and runoff – we complete each step in house. We help save you downtime and increase your production by designing flexible tooling with pneumatic clamps, quick disconnects, plug-and-play communications, and spatter-resistant protection.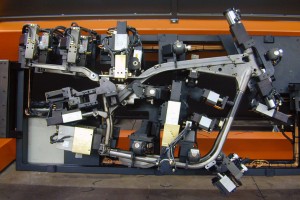 Throughout North America, Tennessee Rand is known as a premier supplier of automotive-style tooling and often used as the benchmark by which others are measured. With unsurpassed capabilities, experience and attention to detail, Tennessee Rand's tooling services are utilized in the manufacture of complex, dimensionally critical assemblies such as:
Seating
Bumpers
Frames
Exhaust
Motorcycle Frames
ATV Frames
Instrument Panels
Want to talk to one of our experts?
With over 25 years of experience designing, building, and integrating welding tooling and systems for automotive and general industry programs, we are prepared to meet the challenge of providing you with a complex welding assembly that meets your production, safety and quality needs. If you're looking for a flexible tooling assembly that results high-quality products, contact us today.
Contact Us