Based in Chattanooga, Tennessee, we operate one the region's largest machine shops and fine-tune every part to eliminate variances between CAD modeling and real-world execution. Based in a state-of-the-art 100,000 sq. ft. facility, our machine shop has the equipment and capacity to deliver quality machined components to meet just-in-time demands.
Build-to-print manufacturing has been a key part of our operations for 40 years. We offer general machining to complex nuclear and military machining that is NQA-1-ISO compliant.
A complete list of our equipment and services is available here (PDF).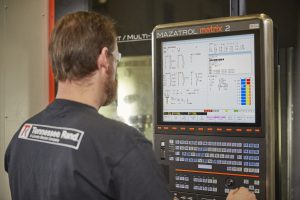 Features of our machine shop:
60+ experienced machinists
Three dozen Mazak CNC machines, and over a dozen manual machines, wire and sinker EDMs, and more
4th and 5th axis machining, including an INTEGREX i-300® machine
Program off-line or direct through MAZATROL software
In-stock material including HRS, CRS, aluminum, tube, bar and plate
ISO 9001 certified and fully compliant with NQA-1 quality program for the nuclear industry
Qualified MIG and TIG welders
Design and inspection capabilities
Contact Us