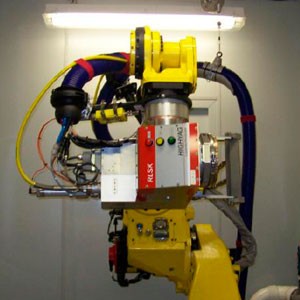 Process: Laser Welding
Industry: Automotive
Parts: Seating Components
Company: Tier-One Automotive supplier
Project Results
Robot Remote Laser welding system for seat back components achieves 148 welds in 45 seconds with 100% weld inspection as each weld is monitored for "PASS" or "FAIL" conditions.
Challenges
Customer required 100% inspection of the 148 laser welds being placed by the remote laser system. Laser welding of these components requires a "no gap" condition between the parts to successfully weld. This requires high quality tooling to consistently remove the gap while still providing dimensional stability. A high level of flexibility was required to allow the cell to quickly change over and to run various models and assemblies.
This was the first PRECITEC Laser Weld Monitor® weld monitoring system and HighYag RLSK® laser optic head integrated in the world, and the first installation of the HighYag RLSK laser optic head in the US. 100% laser weld monitoring at these speeds demanded hi-speed weld monitoring equipment that PRECITEC could deliver with the LWM weld monitor.
---
Tennessee Rand successfully engineered, fabricated, programmed, and installed this system at a Tier-One Automotive supplier in the US.  Experience in laser welding was vital for this challenging project.  As the individual components were stamped from thin material, they were not flat and required forming in the tool to ensure part to part contact.  Tennessee Rand's tooling experience and laser system integration provided a tooling solution that closed the gaps and was dimensionally repeatable and in-house controls experience in laser system integration to marry all the required systems together.
The cell was equipped with a FANUC 2000i® robot, IPG 4Kw® Fiber laser, HighYag RLSK scanning optics and a PRECITEC LWM weld monitoring system.  This was the first integration of the HighYag RLSK and PRECITEC LWM weld monitoring system in the world.  The combination of Tennessee Rand laser integration experience, and equipment from PRECITEC allowed for 100% weld inspection of every weld being placed on the panels.  This combination of equipment resulted in the cell achieving welding speeds of approximately 7 meters per minute.