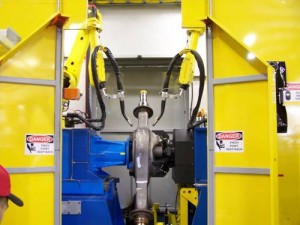 Process: Steel GMAW Welding/Hydraulic clamping
Industry: Trucking Industry
Parts: Rear Axle Assemblies
Company: Tier One supplier to automotive and trucking industry
Project Results
Robotic system meets or exceeds project requirements for welding axle ring and cover components to axle sub assembly.  Tennessee Rand robotic systems are the standard for this process in operations worldwide.
Challenges
Understanding component repeatability and required forces to force out gaps in mating components
Designing tools and tooling change out for multiple designs and part sizes
Re engineering basic European design concept to US specifications
Replacing stationary torch design with FANUC® robots and Fronius® twin wire welding for a more flexible and robust solution
---
Tennessee Rand successfully engineered, fabricated, programmed, and installed this large hydraulic clamping, twin weld wire system at an Axle Manufacturer in the US.  Our willingness to team up with their engineers and visit their European operations, ultimately allowed us to complete revamp their existing European designs to bring the system into North American specifications, add FANUC Robots and Fronius twin wire welding to add flexibility and speed.

The project success stemmed from Tennessee Rand's ability to work as a team with the manufacturing plant, corporate purchasing, and their European operations to design and build a world class system for their process using the latest technology available from FANUC robots and Fronius. Tennessee Rand engineers visited their best in class operations in Europe to investigate the best methods for machine design and build.  We used the information obtained as a baseline for our machines; however, we added FANUC robots (versus fixed guns) and Fronius power supplies to offer a twin wire welding package that ultimately gave better operational performance.
Ultimately, the customer replaced three of their current processes with two Tennessee Rand systems which resulted in increased throughput, decreased overall man power requirements, and a better quality end product.