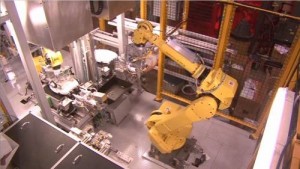 Process: Toilet Seat Assembly
Industry: Home products
Parts: Injection Molded Toilet Seats
Company: Leading supplier of Home Products
Project Results 
Automation project started with a trial manufacturing cell which has successfully ran in production for 2 years.  Company has decided to invest in 10 more machines which will allow full automation of their manufacturing process from molding through packaging.
Challenges
Understanding component repeatability and which assembly methods would best suit the application for long term stability and flexibility to run multiple seat models.
Utilizing FANUC® material handling robots and 2 vision system cameras, Tennessee Rand tooling engineers developed a robust system for seat assembly which is both repeatable and flexible.  A joint effort team consisting of Tennessee Rand Employees and customer engineers helped understand all requirements for success that optimized safety and minimized manning requirements.
---
Tennessee Rand successfully engineered, fabricated, programmed, and installed this system at a manufacturing facility working jointly with plant engineering staff and corporate purchasing.  Experience in robust tooling and automation was vital for this challenging project.  As the individual components were plastic injection molded parts, they were repeatable enough to allow automated assembly.
Tennessee Rand's tooling experts providing a tooling design that utilized common consistent points within the molded parts to develop a process that was dimensionally repeatable, and was operator and maintenance friendly.  Our Engineers also developed material handling systems to separate good assemblies from rejected assemblies based on a vision inspection of the lid and cover at the assembly station.
The process was broken down into 4 main areas:
Material handling devices utilizing conveyors, robots, and vibratory bowl systems
Robotic assembly of the main components with pins and hinges
Visual inspection of 100% of the product
Conveyance system to separate good product from rejected product.
The process was built to be incorporated into an automated packaging process and flexibility for expansion throughout entire facility.